TECHNICAL DATA SHEET
TAIJIN platinum plated titanium anodes FOR CATHODIC PROTECTION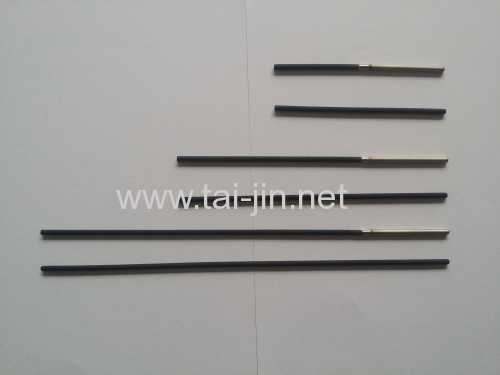 TAIJIN Platinum plated titanium anode is manufactured using titanium substrate which meets ASTM Grade 1 or 2 Standard and coated Pt on the external titanium substrate's surface.
Platinum is a chemical element with symbol Pt and atomic number 78. It is a dense, malleable, ductile, highly unreactive, precious, gray-white transition metal. Platinum have an extraordinary physical and chemical properties, such as thermal conductivity, high corrosion resistance, and catalytic nature.
1. Substrate:
Titanium ASTM B-265,338,348 Gr I or II
Shape: Rod, wire, sheet, plate, mesh, disc,etc.(all can be available as client's requirement)
2. Working parameter:
TAIJIN platinized technology divided into two methods:
1. Thermal decomposition method
2. Electroplating method
The thermal decomposition method:
Current density < 2000A/m2
Working temperature: no more than 60℃
Chlorine-liberated potential<5.5V
Coating thickness:0.5-5μm
Content of noble metal:≥21g/m2
The electroplating method
PH: 1~12
Current density < 8000A/m2
Working temperature: no more than 80℃
Coating material: 99.99% pure platinum
Coating thickness:0.2-15μm
Content of noble metal:≥21.48g/m2
3. Features:
1) Effective& environment-friendly method
2) High anti-corrosion property
3) High current efficiency property
4) Low chlorine evolution voltage
5) High catalytic property
6) Long lifetime
7) Light weight electrodes
8) Keep the operating voltage stably
4. Application:
Sea water
5. Quality Guarantee:
(1)Main quality indicators: substrate material, precious metal ratio, strengthen working life
(2)With advanced technology & equipment, abundant experiences and skilled workers, during the production of Titanium Anode, each process must be strictly supervised and tested, including the original material's quality, surface finish, coating quality, coating evenness degree, binding force between coating & substrate and so on. The only one aim is to provide the most excellent product, the lowest price and the best service for each client.
(3)Mill Test Certificate or Performance Test Report be provided before delivery to ensure the quality if you need.
(4)The third party certificate such as ISO9001, DNV, BV, SGS, etc. are available
6. Certification