Titanium Impressed current probe anodes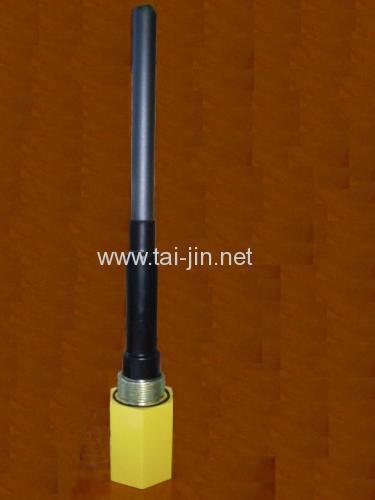 TaiJin impressed current probe anodes are an effective solution when there is a need to protect the internal surfaces of a structure, such as a condenser water box, process tank, pressure vessel, intake / discharge piping, or similar. Available in a wide variety of sizes, materials and configurations, these probe anodes allow through-wall installation of the anode from the exterior of the structure.
1.Anode Materials
The anode element is available in a number of material choices including:
Platinized niobium*

Platinized titanium*

Mixed metal oxide (MMO)**

* Platinum thickness can vary from 50 to 300 microinches.

Physical Considerations

Depending on the probe anode application, diameter of the anode, flow rates and other considerations, probe anodes may or may not require the use of a non-metallic support shield. This shield is designed to provide structural support to the anode rod and to provide current shielding properties.

2.Application:

1] Heat Exchangers.
2] Pumps.
3] Valves.
4] Pipes.
5] Marine .


3.Substrate:

- Solid Titanium rod.
- Solid Niobium rod.
- Copper cored Titanium rod.
- Titanium Tube with end closed.


4.Typical Anode Configuration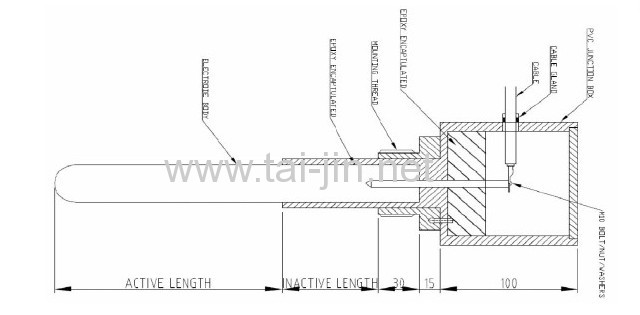 Available in 7 standard sizes of rod for probe anodes as 6.00 mm Dia, 10.0 mm Dia, 12.0 mm Dia, 20.0 mm Dia & 25.0 mm Dia,30mm dia &32mm Dia, other sizes are available on request.

5.Speicifacations


| | | | |
| --- | --- | --- | --- |
| Diameter (mm) | Length(mm) | Surface Area(m2) | Working life(year) |
| 3.2 | 1000 | 0.01 | 20 |
| 6.4 | 1000 | 0.02 | 20 |
| 12.7 | 1000 | 0.04 | 20 |
| 19 | 1000 | 0.06 | 20 |
| 25 | 1000 | 0.08 | 20 |
6.Features

High Current Output

Low Coating Wear Rate

Five Year ProductWarranty

Also available as RodAnode Assemblies







7.Equipments





PreciseTemperatureControlResistanceFurnace






Accerlerate Life Test




8.ISO9001 Certificate










9.Coating Thickness Test



10.Quality Control



11.The List of Products from Xi'an Taijin



1) Anode for Cathodic Protection

a) MMO Titanium Tube Anode/Platinized Titanium Tube Anode

b) MMO Titanium Disk Anode/ Platinized Titanium Disk Anode

c) MMO Titanium Rod Anode/ Platinized Titanium Rod Anode

d) MMO Titanium Sheet Anode/ Platinized Titanium Sheet Anode

e) MMO Wire Anode

f) MMO Titanium Mesh Ribbon Anode

g) MMO Titanium Ribbon Anode

h)Titanium Conductor Bar

i) MMO or Platinized Probe Anode

2) Titanium Anode for Hydrometallurgy

3) Titanium Anode for Electrolysing Copper Foil

4) Titanium Anode for Electrolysing Aluminum Foil

5) Titanium Anode for Sodium Hypochlorite and Seawater Electrolysis

6) Titanium Anode for Electrolysing Organic Synthesis

7) Noble Metal Compounds



12. Main Export Markets:

Asia

Australasia

Central/South America

Eastern Europe

Mid East/Africa

North America

Western Europe