Platinized Titanium Anodes


Platinum coated (Platinized) Titanium/Niobium Anodes are highly conductive anodes used in electroplating, water treatment/Electrochlorination to antifouling, fuel cells, cathodic protection, and other electronic applications. Platinum coated Titanium Anodes are generally instantly available in most volumes and can be fabricated in forms such as sheet, mesh, perforated plate, rod, or wire.
1. Substrate& Coating


1) Titanium Grade1-Expanded mesh, sheet, plate,rod, tube etc.
2) Niobium-customized
3) Coating-Platinum
4) Coating methode: Electroplating



2. Applications
Electro dialysis.

Cathodic Protection.

Electrochemical Sensing.

Electro winning and Refining of metals.

Electrolytic Regeneration of chromic acid.

Electroplating precious and base metals.

Electrolytic recovery for precious and base metals.

Electrolytic Production of Sodium Hypochlorite.

Electro synthesis of Inorganic & Organic chemicals.
3. Advantages


Flexible, application-specific design

Production of complex shape anodes

Energy saving potential

Low weight (in particular expanded metal anodes)

Long service time even at high current density

Dimensional stability, long durability of base material

Replating possible

Homogeneous deposition, higher quality of end produc
4. Main Export Markets:
Southeastern Asia

Australasia

South America

Europe

Mid East/Africa

North America

5. Quality Assurance

Certificates enclosed delivery

1. Platinum coating thickness test(SEM)

2. Platinum coating adhension test

3. Platinum coating surface visual test

4. Platinum coating surface microimages(SEM)

5. Other test requested by customers.

Quality control process and standards



‍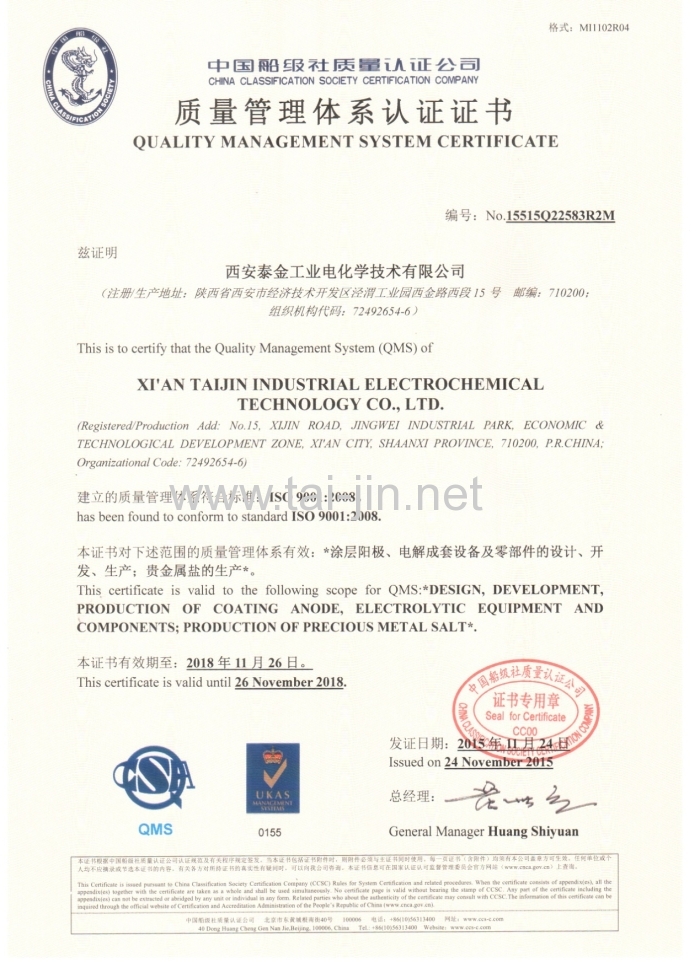 6. The List of Products from Xi'an Taijin


Anodes Impressed Current for Cathodic Protection




Titanium Anodes




1)Mixed Metal Oxide Ti Wire & Piggy Back Wire Anode

2)Mixed Metal Oxide Ti Ribbon & Mesh Ribbon Anode

3)MMO/Platinized Ti Tubular & Anode string &Canister Anode

4)MMO/Platinized Ti Rod & Probe Anode

5)MMO/Platinized Ti Discrete Anode

6)MMO/Platinized Ti Disk & Sheet & Plate Anode


High Silicon Cast Iron Anode


1)HSCI Rod Anode

2)HSCI Tubular Anode

Cathodic Protection Materials

1)CP Wire and Cable

2)Anode Calcined Petroleum Coke Backfill





Magnesium anode




1)MG High Potential Anode

2)H-1 Alloy Mg Anode

3)Pre-packaged Mg Anode

4)Cast Mg Rod AZ-63 Alloy

5)Mg Extruded Rod /Ribbon Anode




Aluminum anode




1)Aluminum Cast Anode

2)Aluminum Extruded Rod Anode


Zinc Anode


1)Zinc Cast Anode

2)Zinc Ribbon anode




Titanium Anodes Used in Other Field




1)Mixed Metal Oxide Titanium Anode for Hydrometallurgy

2)Mixed Metal Oxide Titanium Anode for Electrolysing Copper/ Aluminum Foil

3)Mixed Metal Oxide/Platinized Titanium Anode for Sodium Hypochlorite and Seawater Electrolysis




Titanium Product




1)Titanium Clad Copper Metal Material

2)Titanium Art Products

3)Titanium Fasteners




Precise Temperature Control Resistance Furnace






Strenthening Life Test






Coating Thickness Inspection




7. Products