Ru-Ir Titanium Anodes Used in Water Treatment Field


1. Substrate:
Titanium ASTM B265 Gr1

1)Composition


| | |
| --- | --- |
| C | max 0.08% |
| N | max 0.03% |
| H | max 0.015% |
| Fe | max 0.20% |
| O | max 0.18% |
| Residual | max each 0.1% |
| Residual | max total 0.4% |
| Ti | balance |
2) Coating: Ruthenium-Iridium

2. Specification

titanium sheet 60*110*1.0mm /150*63*1.0mm
220*37*1.0mm / 185*50*2.0mm (according to your request)

3. Working Life:

2 years, 3year, 5 years

4. Application:

1) For swimming pool disinfection
2) Treatment of hospital wastewater
3) Table-ware disinfection
4) Depolarization of dyeing wastewater treatment
5) Industrial cooling water circulation treatment
6) Electroplating waste water which containing cyanide

5. Quality Assurance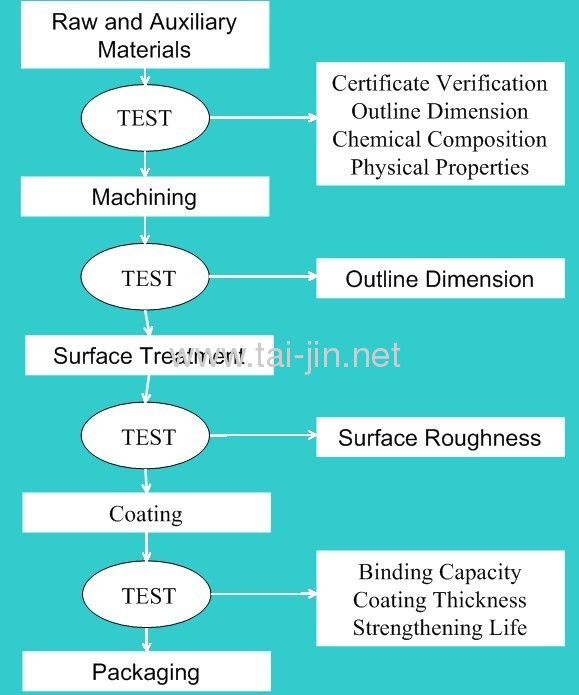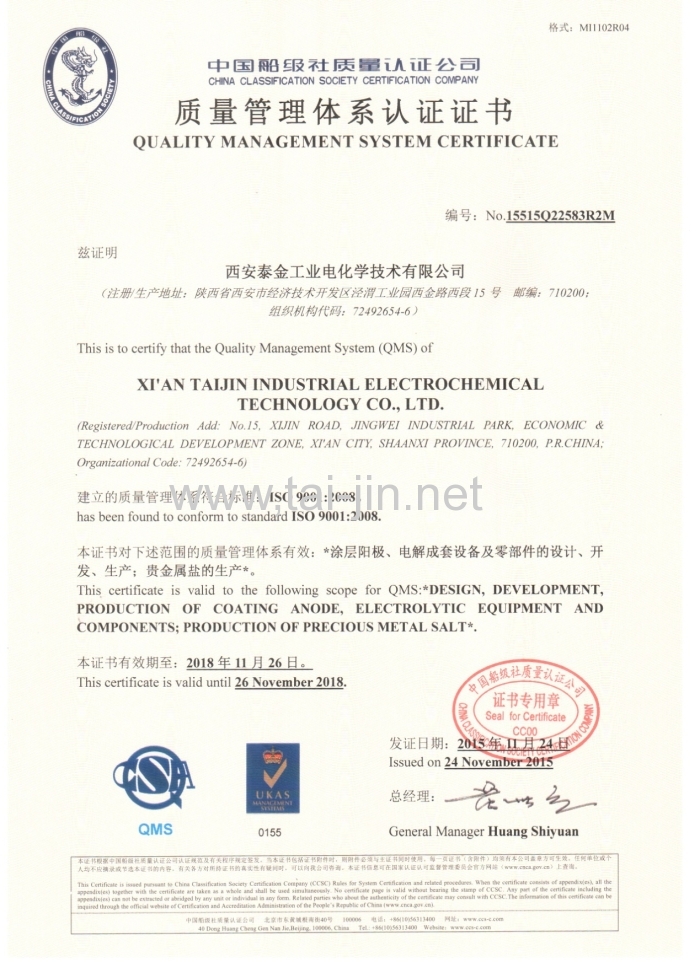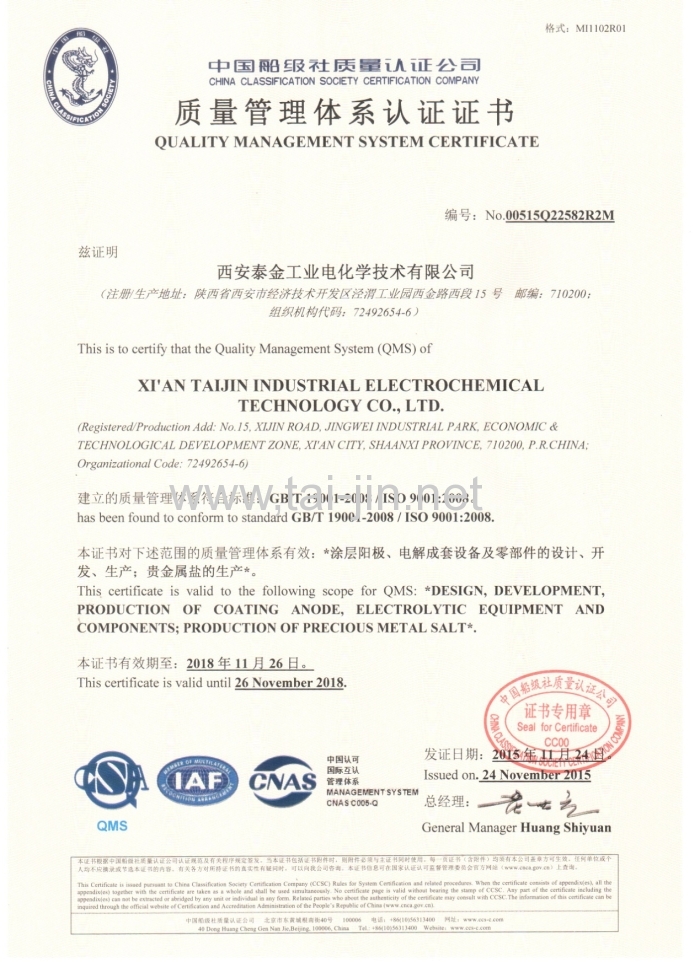 6. Electrolyzing principle and Technical parameter
1) Titanium Anodes for Sodium Hypochlorite Generator
By electrolyzing sea water or salt water, sodium chloride in sea water or salt water is oxidized into hypochlorous acid sodium, and it can generate the hypochlorous acid by hydrolysis, then hypochlorous acid decomposes further to form new ecological oxygen, new ecological oxygen has strong oxidizing, they can make protein and other cells of bacteria and virus degeneration, thus kill pathogenic microbes, and effectively prevent microbial contamination.
All the products are customized as client's request.
a) Working life: 5 years under the working current 1000-1500A/m2
b) Accelerated life: ≥120 hours(Testing Standard: HG/T2471-2001)
c) Chlorine evolution potential: ≤1.2V(Testing Standard: HG/T2471-2001)
d) Polarizability : ≤40mV(Testing Standard: HG/T2471-2001)
2) Titanium Anode for preparation of chlorine dioxide
Membrane electrolysis technology is used to prepare chloride dioxide as raw materials- sodium chlorate or sodium chloride. The electrolyte is salt solution, a sodium hypochlorite, Chlorite or Chlorate solution. In the process of electrolysis, there generate caustic soda and hydrogen in cathode, mixture of chlorine dioxide and chlorine dioxide, hydrogen peroxide and ozone in anode.
3) Titanium Anode for Electro dialysis
Electrodialysis is a combination of electrochemical and diffusion dialysis process. Driven by DC electric field, anions and cations move to the anode and cathode respectively using ion exchange membrane permeability (cations go through cation exchange membrane, anion through the anion exchange membrane). In the process of Ions migration, if the membrane fixed charges is opposite to the ions, the ions can go through, if the membrane fixed charges is the same as the ions, the ions are exclusive, which can achieve solution dilution, concentration, refining or purifying.
4) Titanium Anodes for Organic Waste Water
In recent years, with the rapid development of industry, the pollution of organic waste water become more and more serious, especially waste water containing nitrobenzene damage greatly discharged from printing, dyeing and chemical industry. This kind of waste water not only has high stability, but also has strong toxicity. It is difficult to meet the requirements of organic wastewater discharging standard using the conventional biochemical degradation method. Electro catalytic oxidation technology has attracted much attention due to the strong oxidation. Generating
strong hydroxyl radical with strong oxidation in the process of electro catalytic oxidation, this technique makes substance that it is difficult to degrade transform into biochemical organic matter, or make organics mineralization completely and toxic and harmful organic matters transform into less toxic substances, thus improve waste water biodegradability It has a good market in difficult degrading industry waste water.
5) Titanium Anodes for Removing Ca and Ma Ions of Waste Water
The RO concentrated water containing high calcium, magnesium ions and high salt is easily scaled. By electrolyzing, there occurs hydrogen evolution in cathode area, thus calcium and magnesium ions insoluble precipitate generate easily due to the enrichment of Hydroxyl, and remove them by 10% HCl soaking and washing, scraping the scale regularly or polarity reversal. This technique can reduce calcium and magnesium ions concentration to soften water. Meanwhile, the water chlorine ion is oxidized to hypochlorite, which can sterilize and purify water effectively
7. The List of Products from Xi'an Taijin
1) Anode for Cathodic Protection
a) MMO Titanium Tube Anode/Platinized Titanium Tube Anode
b) MMO Titanium Disk Anode/ Platinized Titanium Disk Anode
c) MMO Titanium Rod Anode/ Platinized Titanium Rod Anode
d) MMO Titanium Sheet Anode/ Platinized Titanium Sheet Anode
e) MMO Wire Anode
f) MMO Titanium Mesh Ribbon Anode
g) MMO Titanium Ribbon Anode
h)Titanium Conductor Bar
i) MMO or Platinized Probe Anode
2) Titanium Anode for Hydrometallurgy
3) Titanium Anode for Electrolysing Copper Foil
4) Titanium Anode for Electrolysing Aluminum Foil
5) Titanium Anode for Sodium Hypochlorite and Seawater Electrolysis
6) Titanium Anode for Electrolysing Organic Synthesis
7) Noble Metal Compounds


8. Products