Ru-Ir Titanium Anodes Used in Water Treatment Field

Our Ru-Ir tianium anodes are highly recognized amongest customers and end-users as their high electrolyzing efficiency, enough working life, thoughtful service, professional and positive suggestions. Welcome your inquiry, pls find the following details.
Product Details
1. Substrate:
Titanium ASTM B265 Gr1

1)Composition


| | |
| --- | --- |
| C | max 0.08% |
| N | max 0.03% |
| H | max 0.015% |
| Fe | max 0.20% |
| O | max 0.18% |
| Residual | max each 0.1% |
| Residual | max total 0.4% |
| Ti | balance |
2) Coating: Ruthenium and Iridium base as well as other valve and active metal

2. Technical Parameter
a) Working life: 5 years under the working current 1000-1500A/m2
b) Accelerated life: ≥120 hours
c) Chlorine evolution potential: ≤1.2V
d) Polarizability : ≤40mV
3. Technical Highlight
a) Improve and adjustable continuously coating system to customize precision products for every customer
b) Parent Institute(Northwest Institute for Non-ferrous Metal) materials processing combined perfectly with Taijin own coating formula.
c) Excellent welding technique
d) Professional and practicable design coception
e) Adapt to polar reversal of small electrolysing systme

4. Application:

1) Ballest water treatment
2) Nuclear plants coolign water treatment
3) For swimming pool disinfection
4) Treatment of hospital wastewater
5) Table-ware disinfection
4) Depolarization of dyeing wastewater treatment
6) Industrial cooling water circulation treatment
7) Electroplating waste water which containing cyanide
5. Yearly Sales Volume and Production Capacity
1) Year sales volume: Above USD5,000,000
2) Production capacity:
a) Anode plates in maching workshop within 24 hours: 700pcs
b) Anodes plates in pre-treatment workshope( sand blasting and pickling) within 24 hours: 1000pcs
c) Anodes coating workshop within 24 hours:1000pcs
d) Anodes shape corrected and cathode polishing process within 24 hours: 800 pcs
e) Anodes Assembly workshop within 24 hours: 100pcs
6. Order information
a) Technical Parameter: Electrolyte, current, potential, whether polar reversal, and requested working life, requested
sodium hypochlorite generating output.
b) Detailed drawing, if you not, we will assist to design electrolyzer and send you the detailed drawing for your
confirmation.
7 Products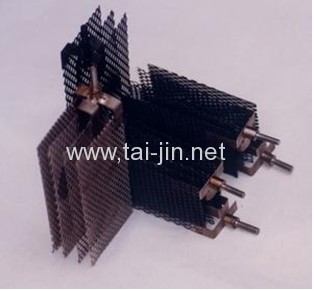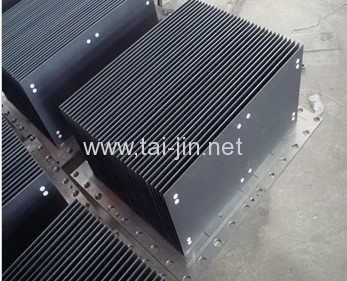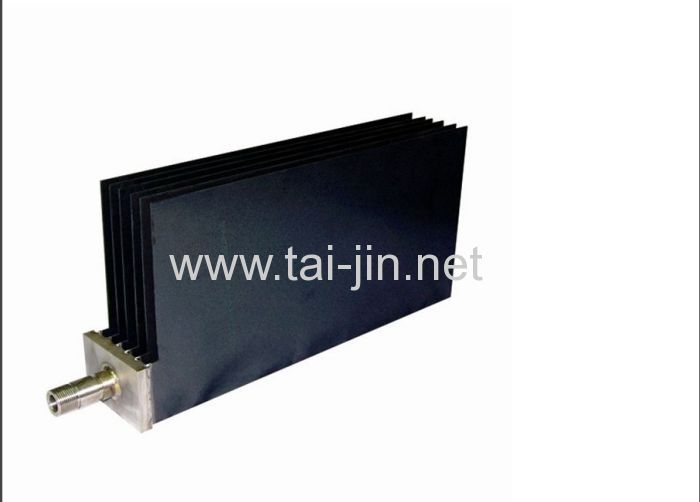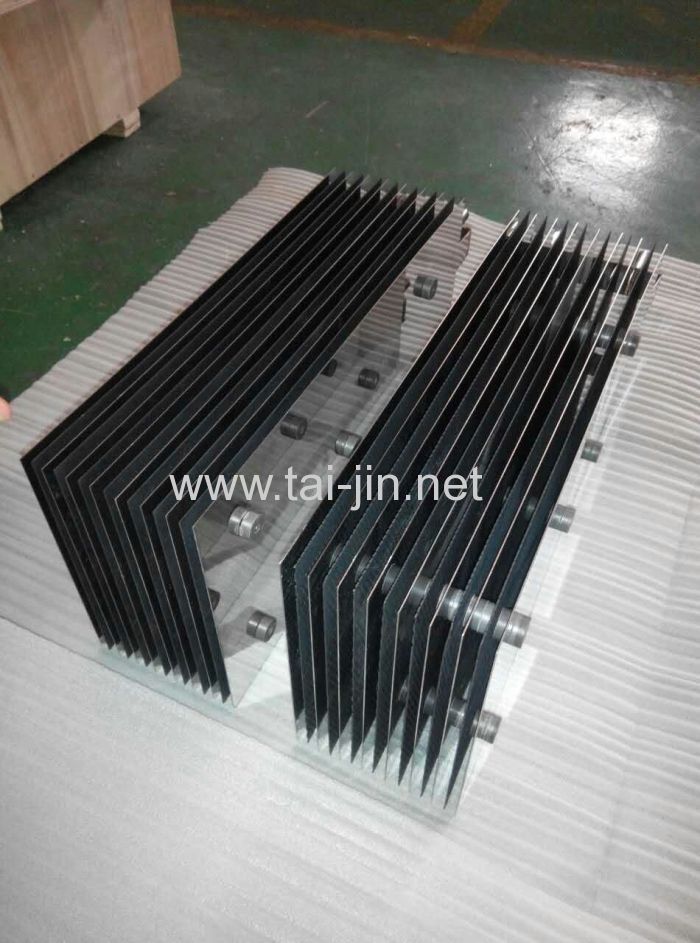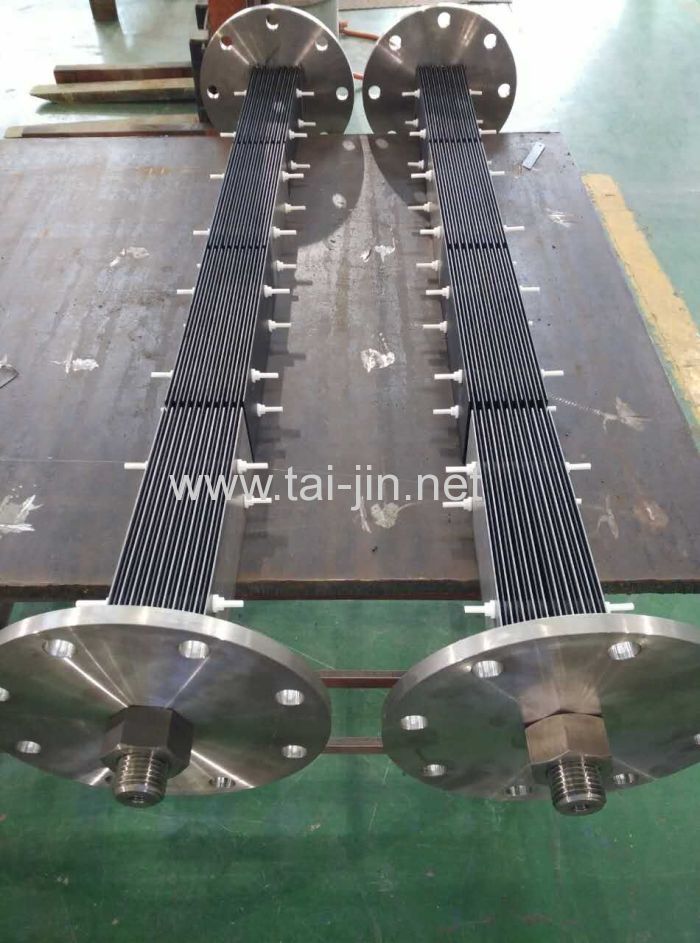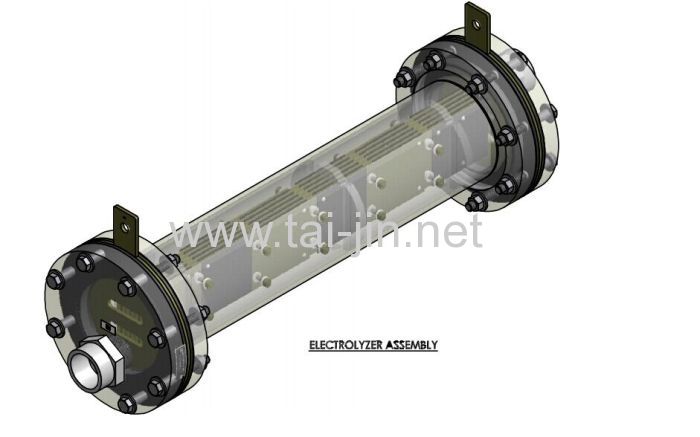 Company Information
1. Introduction

1) Founded in 1998, our Company is a major supplier and manufacturer of MMO & platinized titanium anodes,

cathodes, nonferrous metals and deep-processed titanium products and Electrolyzing Devices.

2) We have 3 large workshops covering 50 acres with a staff force of above 200 and strong producing capability.

3) ISO certified companies complying to the ISO 9001:2008

4) The third party test certification

a) MMO Ribbon Anode and MMO Mesh Ribbon Anode Performance Test from Det Norske Veritas

Inc. under the standard of NACE TM0108 and NACE TM0294

b) Production Assessment from Bureau Veritas Certification

c) SGS Verified Gold supplier of titanium anodes

5) Joint verture

a) Qingdao Suirui Marine Enviroment Engineering Co. Ltd.

b) Wuhan Xingda Technology Engineering Co. Ltd.

c) Corrpro Companies,

d) Siemens Water Technologies

e) Savcor Tempo Oy

f) Cathelco Limited

g) Hama Trading & Contracting Co.(Kuwait) and so on

2. Workshop and laboratory

Machining shop

Precise Temperature Control Resistance Furnace





Accelerated Life Test




Coating Thicknes Test (SEM)



Helium Mass Spectrometer Leak Detector

3. Certificates

ISO9001:2008 Quality Certificate






SGS Golden Supplier

BV Production Assessment Certificate