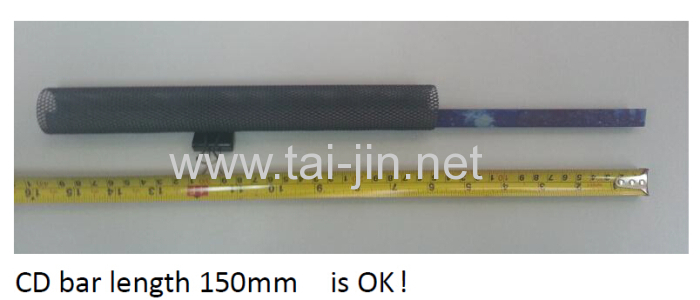 TAIJIN DISCRETE MESH ANODES FOR
CATHODIC PROTECTION OF REINFORCED CONCRETE
TAIJIN Discrete Mesh Anodes complements our existing anode product line for the Cathodic protection of steel reinforced concrete structures. Mixed metal oxide coated titanium has been extensively and successfully utilized as an anode material for cathodic protection of reinforced concrete world- wide in a variety of configurations. It is composed of a precious metal oxide catalyst on an expanded titanium mesh substrate.
TAIJIN Discrete Anode is available in 100 mm, 150 mm, 200 mm, 250mm and 300 mm lengths that can be combined to meet specific requirements.
1. Structure
DISCRETE MESH ANODE can be supplied with a spot welded Ti conductor bar or titanium rod, typically of Ti Conductor Bar, typically of Ti Ribbon12.7mm x 0.9 mm, typically of Ti Rod/Wire(diameter 3mm) coated or uncoated, of length to suit project requirements
2. Information
Diameter

(mm)

Length

(mm)

Expanded Mesh Thickness (mm)

Expected design life

(year)

19/25.4

100

150

200

250

300

0.6

>50

1. Other specification is available on client's request

2. Coating loading can be adjusted for any combination of current output and design life

















Titanium ASTM B 265 Grade I or Grade II (based on the customer)
1) Coating Type: Iridium Oxide, Mixed Metal Oxide- IrO2/Ta2O5
2) Working solution:Cl2,O2 or a combination evolution
3. Advantages
• Available in a wide range of diameters and lengths to suit all applications/current outputs.
• Full metallurgical bonding between anodes and feeder strips, no pressure contacts/crimps.
• Easy to install on site
4. Typical Applications
• Highway Structures
• Bridge
• Tunnels
• Jetties
• Car Park Decks