Titanium IrO2-Ta2O5 coated ribbon anode for cathodic protection



1. Substrate& Coating


Titanium ASTM B265 Grade1

1)Composition


| | |
| --- | --- |
| C | max 0.08% |
| N | max 0.03% |
| H | max 0.015% |
| Fe | max 0.20% |
| O | max 0.18% |
| Residual | max each 0.1% |
| Residual | max total 0.4% |
| Ti | balance |

2)Coating: Mixed Metal Oxide


2. Spectification:


Width

(mm)

Thickness

(mm)

Length/coil

(m)

Output

Current

(mA/m)

Weight

(kg/roll)

Working life(year)

6.35

0.635

152

17

2.8

50

12.7

0.9

152

34

7.8

50


3. Accelerated Life


a) MMO Ribbon(NACE Standard TM0108-2008/Test condition: 1M Na2SO4 15000A/m2
b) Working Life: 50 years
c) Formula: Accelerated Current Output×Time ≥ Working × Working Life

For Example:
15000A/m2 ×120h 42mA/m×10-3 ×50 years×365 days×24 hours
1m×6.35mm×10-3×2

4. Application:

·In fine sandy loam
·Release Cl2 or O2, or both releases Cl2 and O2 environment
·Typically used for cathodic protection of the ground tank bottom and
reinforced concrete structure

5. Quality Control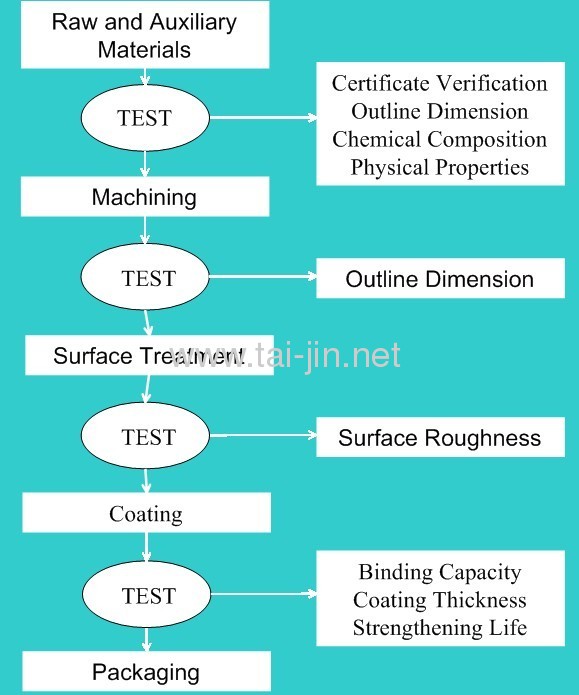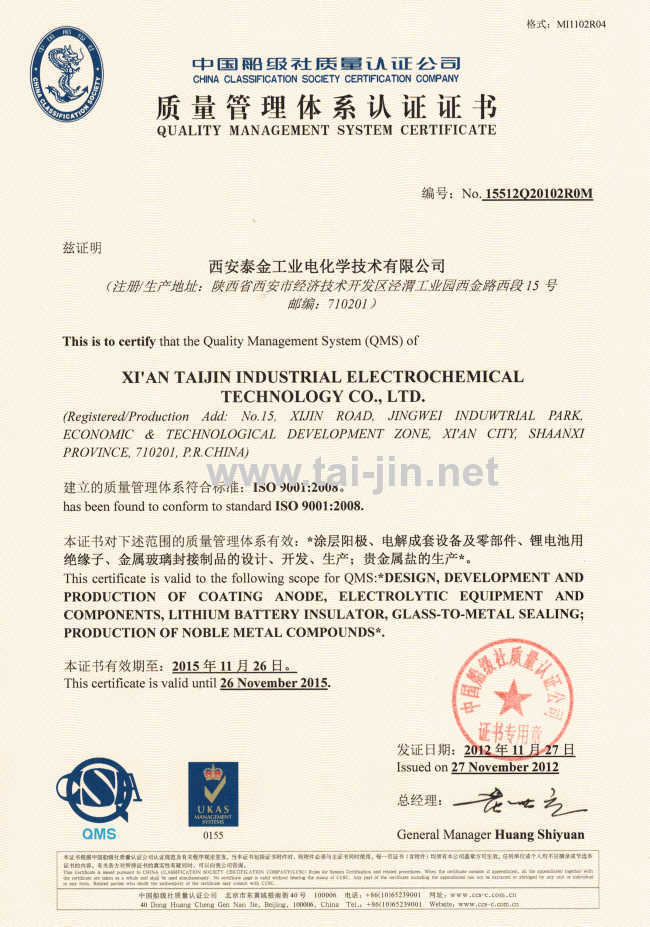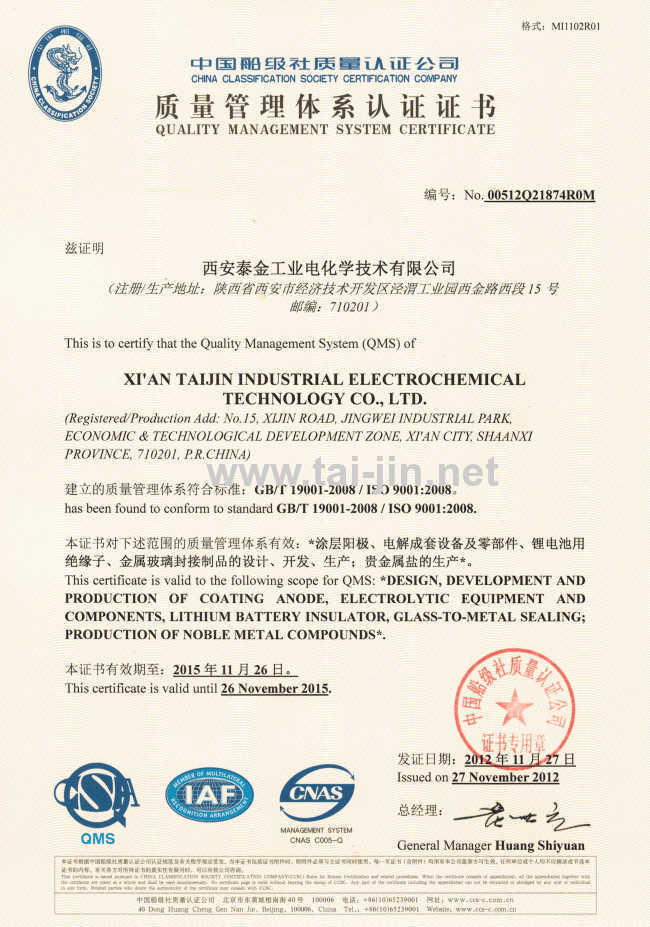 6.The List of Products from Xi'an Taijin


1) Anode for Cathodic Protection
a) MMO Titanium Tube Anode/Platinized Titanium Tube Anode
b) MMO Titanium Disk Anode/ Platinized Titanium Disk Anode
c) MMO Titanium Rod Anode/ Platinized Titanium Rod Anode
d) MMO Titanium Sheet Anode/ Platinized Titanium Sheet Anode
e) MMO Wire Anode
f) MMO Titanium Mesh Ribbon Anode
g) MMO Titanium Ribbon Anode
h)Titanium Conductor Bar
i) MMO or Platinized Probe Anode
2) Titanium Anode for Hydrometallurgy
3) Titanium Anode for Electrolysing Copper Foil
4) Titanium Anode for Electrolysing Aluminum Foil
5) Titanium Anode for Sodium Hypochlorite and Seawater Electrolysis
6) Titanium Anode for Electrolysing Organic Synthesis
7) Noble Metal Compounds


7. Projects and Patents(Just a part)


a) Projects:

1.High Effective and Energy Saving Titanium Anode Used for Hydrometallurgy
2.The Development of Green and Novel Glass-to Metal Sealing Product
3.The Research and Production of High performance of Titanium Anode Composite Materials
4.The Research and Production of the Cathode Drum Used in Electrolyzing Copper Foil

b) Patents

1.A Kind of Brushing Device Used in Production of Titanium Ribbon and Titanium Mesh Ribbon
2.Dipping solution of the Coordination Compounds of Platinum and Prepare the Platinum Coating with it.
3.A Titanium Anode Device Used in a hydrometallurgical Electrodeposition of Metals
4.The Method of Removing Titanium Anode Coating
5.A Preparation Method of Full-sealing Liquid Mixed Tantalum Capacitor Cathode
6.A glass-to-metal multi-pin feedthru sealing process
7.A Technology of Glass-to-Metal Sealing
8.A Preparation Method of Lead-free Aluminum and Aluminum Alloy Low Melting Sealing glass

8. Main Export Markets:
Asia

Australasia

Central/South America

Eastern Europe

Mid East/Africa

North America

Western Europe
9. Equipment


Ribbon Cutter machine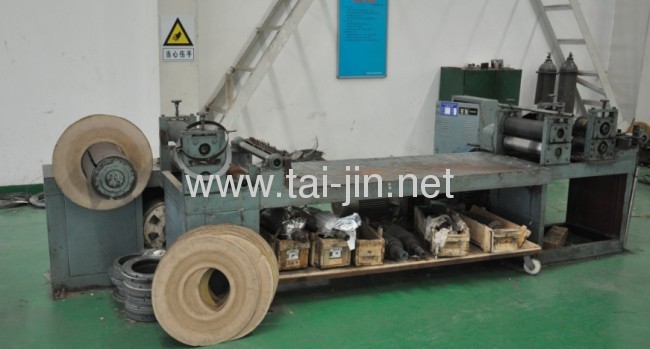 Automatic and Continuous RibbonFurnace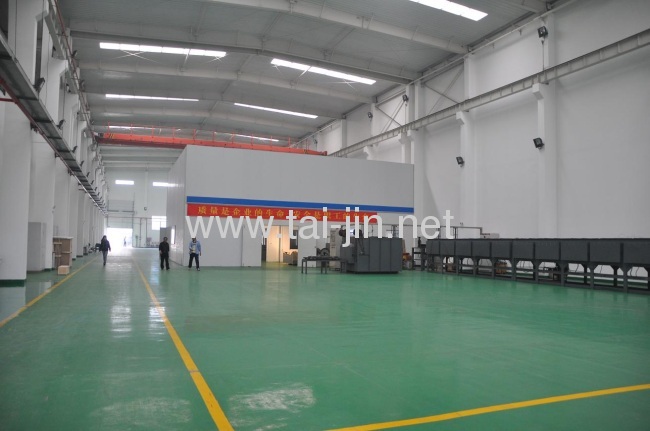 Accerlerate Life Test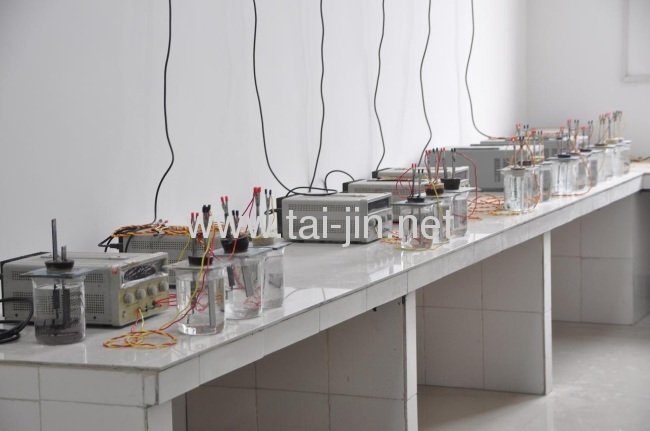 Coating Thickness Test
9.Products:


Raw Materials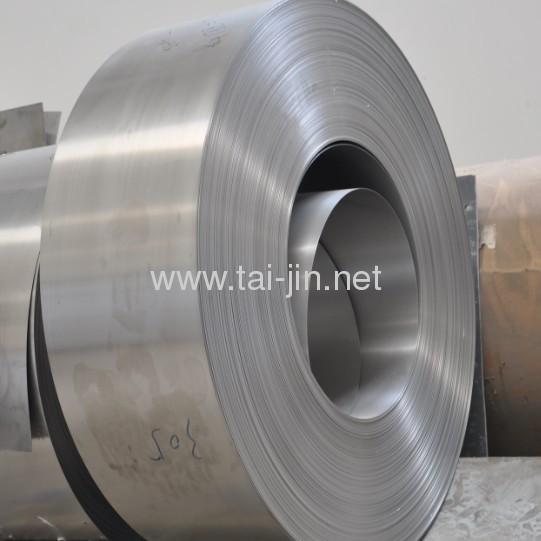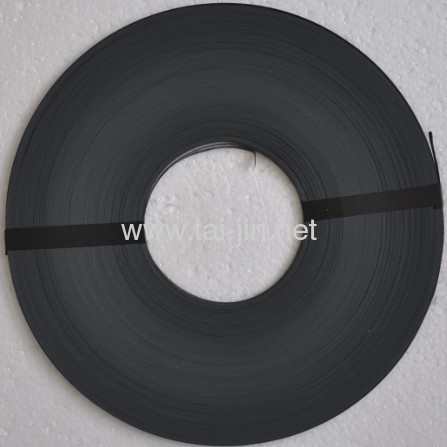 \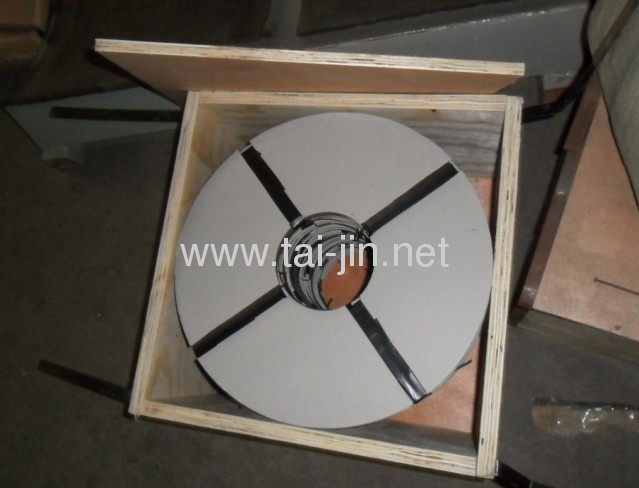 7. Engineering Pictures



MMO Ribbon Anode for Under tank Cathodic Protection